Bubble chandelier: give your interior decoration a dreamy vibe
Nov 10, 2023 by Josenart
JOSENART bubble chandelier is the perfect way to give your home's interior decoration an enchanting, almost dream-like atmosphere. The unique design of this modern light fixture invites in a fantasy-like feeling that makes any room feel more special and inviting.
A bubble chandelier gives the classic chandelier an updated twist, inviting a more contemporary feel to traditional lighting. What sets this modern lighting apart from the traditional chandelier is its unique and eye-catching sphere shapes, often crafted from glass, wood, or ceramic for a unique touch. Typically suspended from a metal chain, bubble chandeliers come in a variety of shapes and styles.
The spherical shape of the bubble chandelier gives it a distinct quality that can be seen from far away, making it the perfect addition to an entranceway or a room with lots of windows. Whether your home has a classic, traditional look or a modern, contemporary feel, a bubble chandelier can add the perfect accent to any type of interior decoration.
From a practical standpoint, bubble chandeliers are effective at distributing light evenly throughout the room. The bubbles disperse the light in an even way throughout the room, creating a soft, homelike feeling. By placing a bubble chandelier in the center of the room, the furniture around it will look more inviting as the bubble shape offers a softer light that reflects off the walls and floors.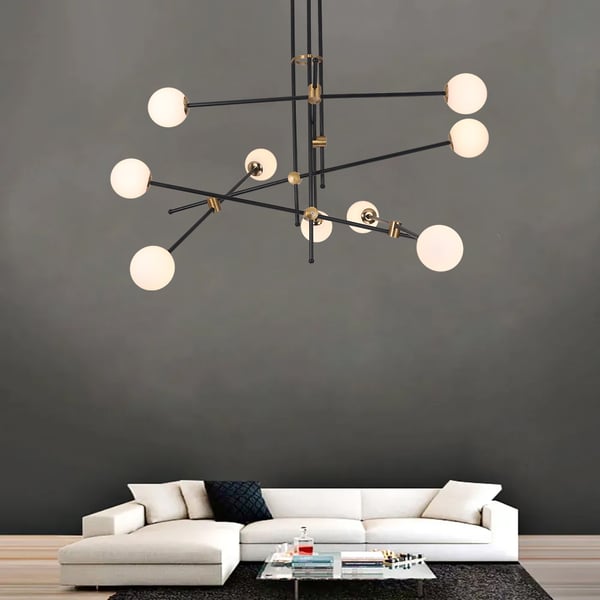 If you're looking to bring more natural light into your living space, bubble chandeliers can help. Some models can be fitted with LED light bulbs, allowing you to get energy-efficient and cost-effective illumination without sacrificing design or style. You can also adjust the intensity of the lighting, allowing you to customize your decor to your own needs.
Bubble chandeliers come in a variety of sizes, giving you plenty of options when it comes to finding one that fits your space requirements and decor. Some bubble chandeliers even come with lattice lace covers, creating an even more dramatic effect. You can even combine traditional chandelier elements with the bubbly elements to create a unique look and feel.
A bubble chandelier is the perfect way to give your home's interior decoration a dreamy, almost enchanted feel. Whether you prefer a classic, contemporary, or rustic style, this modern light fixture can give your interior design the perfect touch. With its unique style and functional benefits, a bubble chandelier can definitely enhance any type of interior.
JOSENART is established in 2011 with the belief that lighting, as a crucial component in enhancing people's well-being, should be sustainably sourced, expertly crafted, and long-lasting. According to analyzing the visual and non-visual effects of light, Every light of different light effects embarks on its value in lighting up for daily life of humans no matter where they are.