What is bubble chandelier?
Nov 09, 2023 by Josenart
What materials are used to make bubble chandeliers?
Bubble chandeliers are a unique and eye-catching way to add style to a room. Typically, bubble chandeliers are composed of several transparent, acrylic "bubbles" suspended from metal frames. The bubbles are connected to a single light source bulb, creating a sparkly and glamorous effect. Depending on the design, the bubbles can be arranged in various shapes or clustered together in different patterns.
The frames for bubble chandeliers can be made from metals such as brass, chrome, or copper, giving them a sleek, modern look. The frames typically come in geometric shapes, such as circles or squares, or they may come in elaborate designs, such as spirals or intricate patterns. In some cases, the frames are built into the base of the lamp, whereas in others they are separate parts of the chandelier.
The acrylic "bubbles" used in many bubble chandeliers are usually made of acrylic or acrylic-plastic, and can come in a variety of colors, including clear, amber and pink. Other materials might include plastics such as polycarbonate or polystyrene. Some designs may also feature glass or crystal bubbles, or even real soap bubbles illuminated by the light. The size of the bubbles vary depending on the design of the chandelier, although most range from 1 to 3 inches in diameter.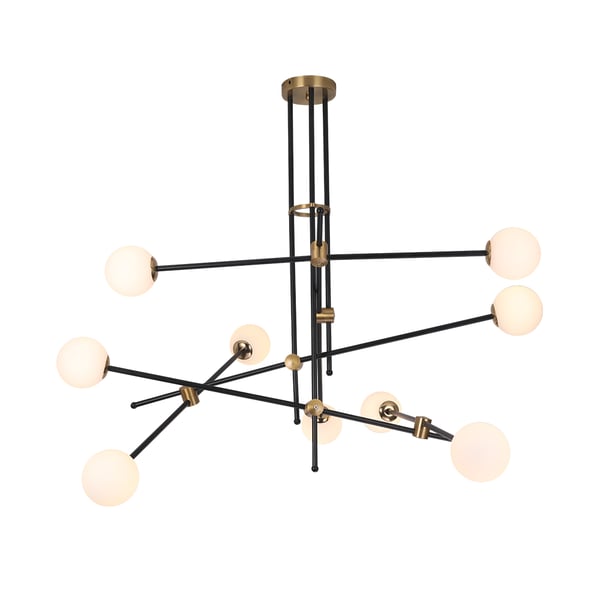 Are there any customization options for bubble chandeliers?
Yes, JOSENART online retailers offer customizable bubble chandeliers in various sizes, colors, and styles. Custom options can include glass lampshades, finishes, wattage, and lighting effects. Options may also include adding additional arms and bulbs to create lighting clusters, or adding a string of glass bubbles and crystal droplets to create cascading designs.
How can I mount a bubble chandelier in my home?
JOSENART provides you with these installation steps:
1. Locate a sturdy beam or ceiling joist with a power outlet nearby.
2. Attach a strong ceiling hook or molly anchor into the beam or joist with a power drill and drywall anchors.
3. Assemble the chain or rope used to suspend the chandelier and attach it to the new ceiling hook.
4. Attach the chandelier to the chain or rope.
5. Connect the power cable from the chandelier to the power outlet.
6. Carefully hang the chandelier in its desired position and secure the chain or rope to the ceiling hook.
7. Activate the power switch to light up your new bubble chandelier.
JOSENART is established in 2011 with the belief that lighting, as a crucial component in enhancing people's well-being, should be sustainably sourced, expertly crafted, and long-lasting. According to analyzing the visual and non-visual effects of light, Every light of different light effects embarks on its value in lighting up for daily life of humans no matter where they are.